+ Season 4 DVD
Annoying really, in 4 years we've only got 4 out of the (at least) 15 Simpsons DVD Boxsets, well at least it gives you something to look forward to each year eh? Anyway, the point of this section is to give every single bit of info on the latest boxset, "The Simpsons: The Complete Fourth Season"
Buy DVD From Amazon.com (USA) - Exclusive JDI Discount ONLY $32.49!
35% OFF RRP
Buy DVD From Amazon.co.uk (UK) - Exclusive JDI Discount ONLY £29.99!
25% OFF RRP
[Latest News]
June 10th: 15 DVD Screenshots, Including Main Menu's, Special Features and Box Shots from a Pre-release copy of the DVD and option to buy DVD.
[The Info]
Well, to be fair this page would be useless without this part (duh):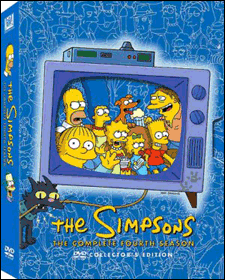 - Technical Info

Release Date: June 15, 2004
[Region 1]
Note: UK Release Date is August 2nd
Catalog #: 2221917
Price:
$49.98 U.S.
(Want it for $32.49? - Click Here)
£39.99 British Pounds
(Want it for £29.99? - Click Here)

Running Time: 506 minutes
Discs: 4
Closed Captioned: Yes




- Screenshots & Photos
Credit goes to Moonraker of DVDFile.com
- Episodes:
Disc One:
Kamp Krusty (9/24/92)
A Streetcar Named Marge (10/1/92)
Homer the Heretic (10/8/92)
Lisa The Beauty Queen (10/15/92)
Treehouse of Horror III (10/29/92)
Itchy & Scratchy: The Movie (11/3/92)
Disc Two:
Marge Gets a Job (11/5/92)
New Kid on the Block (11/12/92)
Mr. Plow (11/19/92)
Lisa's First Word (12/3/92)
Homer's Triple Bypass (12/17/92)
Marge vs. The Monorail (1/14/93)
Disc Three:
Selma's Choice (1/21/93)
Brother From the Same Planet (2/4/93)
I Love Lisa (2/11/93)
Duffless (2/18/93)
Last Exit to Springfield (3/11/93)
So It's Come to This: A Simpsons Clip Show (4/1/93)
Disc Four:
The Front (4/15/93)
Whacking Day (4/29/93)
Marge in Chains (5/6/93)
Krusty Gets Kancelled (5/13/93)
- The Special Features:
[Discs: 1 - 4] 1.33:1 Full Frame

[Discs: 1 - 4] English DD5.1 Surround

[Discs: 1 - 4] French and Spanish DD2.0 Stereo Note: Probably will not be on UK release, unknown why

[Discs: 1 - 4] English and Spanish subtitles Note: UK Release likely to have more options

[Discs: 1 - 4] Audio Commentary with cast and crew on all 22 episodes

[Disc: 1] Optional audio features on episode Kamp Krusty

[Disc: 2] Bonus commentary tracks (easter eggs) on two episodes: Homer's Triple Bypass and Marge vs. the Monorail

[Discs: 2 & 4] Deleted scenes with optional play feature on two episodes: Homer's Triple Bypass (x4) and The Front (x6)

[Discs: 2 & 4] Bonus sketches for two episodes: Homer's Triple Bypass and Krusty Gets Kancelled

[Discs: 1 - 4] Animation Showcase:

3 animatics (two with optional illustrated commentary)
11 multi-angle sequences
Storyboards for 4 episodes
1 colour animation
4 commercials
The Cajun Controversy
A word from Matt Groening
Promotional Syndication reel
Bush vs. Simpsons featurette
.