+ Video Games
[Simpsons Skateboarding]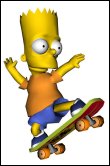 Simpson's Skateboarding came out in Fall 2002. This game allows you to skateboard as any of The Simpson's family as well as Nelson, Prof. Frink, Otto and Krusty in several skate park versions of Springfield such as the nuclear power plant. It features over 40 moves including trademark tricks, and voices taken from the show.
- Screenshots
[Simpsons Road Rage]
The following are cheats for The Simpsons Road Rage on the Playstation 2:
[T = Triangle Button, S = Square Button, O = Circle Button, X = X Button]
ALWAYS HOLD L1 + R1 AT THE OPTIONS SCREEN WHEN TYPING THE CODES.
- Drive Red Soapbox Car - T, T, S, O
- Drive In The Mr Burns Car - T, T, S, S
- Drive Nuke Bus - T, T, S, X
- New Year Krusty - T, T, O, S
- Franken-Bart - T, T, O, X
- Thanksgiving Character - T, T, O, O
- Apu in Santa Claus Costume - T, T, O, T
- Extra Money!! - S, S, S, S
- Extra Camera Views - T, T, T, T
- Night Mode - X, X, X, X
- 2D Characters - O, O, O, O
- Show Crashes - T, T, X, X
- Overhead View - O, O, O, S

[Helpful Hints]
- Hidden Car - Finish all 10 missions to unlock "The Homer" (Remember it from the show?).
- Mission Skip - Mission way to hard?, fail it 5 times to have the option to skip to the next.
- Extra Time - Drive into the Mr Burn's phone booths to get 2 extra seconds, free!

[Shortcuts in Entertainment District]
1. When you start, go forward and stop right in front of the She She lounge. Go right over a hill to get a headstart on dropping off your passenger at their destination.
2. Opposite the hill mentioned in the previous shortcut, go through the Duff Brewery.
3. Go up the lorry ramp, through the fence to find yourself outside The Springfield Googoplex.
[Shortcuts in Springfield Dam]
1. Cut across the river to get to Rancho Relaxo from The Springfield Dam.
2. To get to from Rancho Relaxo to TNT Storage go along the road until on your right there is some green bushes and vines, it is a secret passageway.
.